Emdoor Digital once again won the Intel "2022 CTE Best Solution Innovation Award"
2023-05-23
On February 6th, Intel held the "China CCG and Distribution Platform 2023 Customer Early Spring Conference" in Shenzhen. As an important partner of Intel in the Chinese market, Emdoor Digital was invited to participate in this event and won the "2022 CTE Best Solution Innovation Award".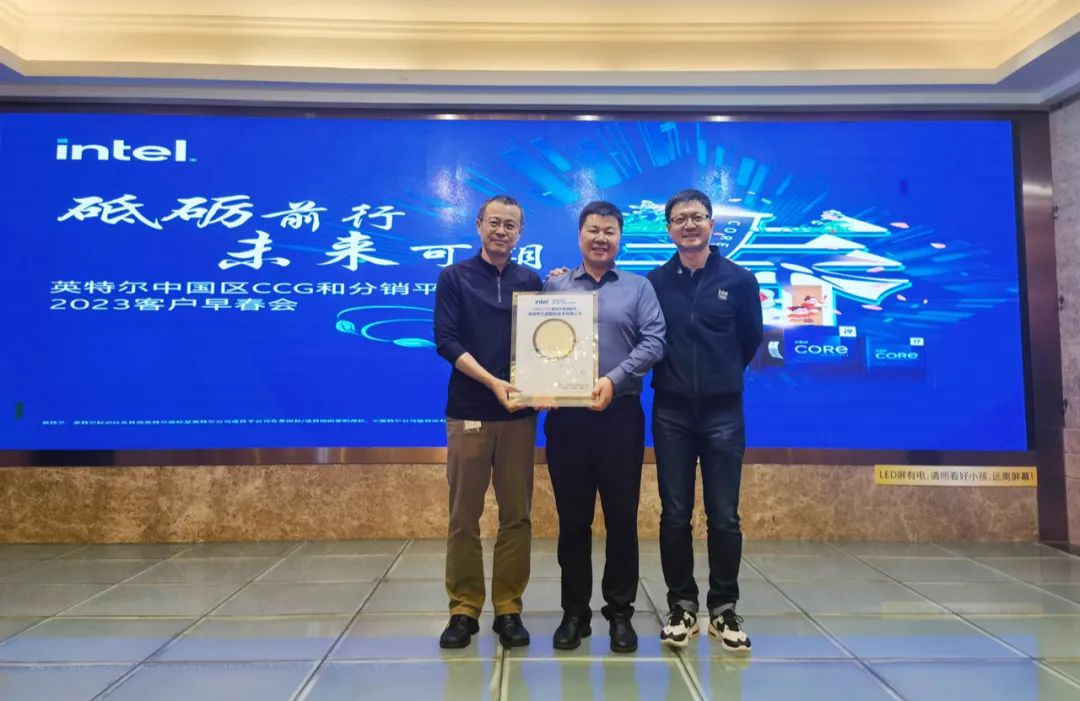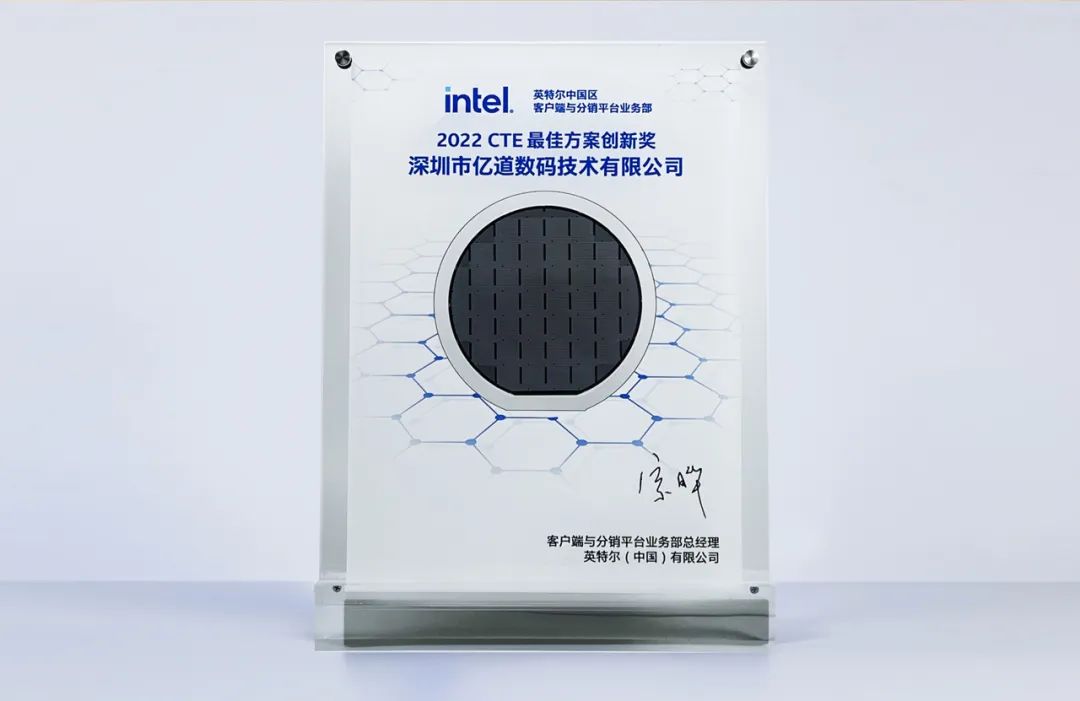 This customer early spring meeting gathered Intel's major agents, CTE partners, IOTG partners, OEM and other customers from multiple levels in China, showcasing Intel's latest business strategy and product roadmap to channel and industry partners, and awarding outstanding customers.
Since the formal establishment of strategic cooperation with Intel in 2013, Emdoor Digital has been continuously investing in the field of consumer intelligent mobile terminals for a decade, launching various forms of products such as laptops, Mini PCs, and all-in-one machines equipped with Intel's multi-platform processors. It provides safe, efficient, and convenient collaboration tools for global enterprises, government agencies, and consumers, and has gained high recognition in the industry.
As IDH&ODM, which has maintained close cooperation with Intel for many years, Emdoor Digital participates in Intel's MRD product design program as a leading manufacturer in the industry. While pursuing excellence in design materials, it also meets Intel's high standard performance testing requirements, leading other partners in promoting new products in the industry.
Thanks to Intel's technical support and brand resources, as well as its strong upstream and downstream resource channels, comprehensive research and development system, and excellent software and hardware design solutions, Emdoor Digital continuously optimizes and upgrades its products. From laptops initially equipped with small core CPUs to laptops equipped with large core CPUs, to high-end business and gaming laptops, and to pan intelligent terminals promoting digital transformation, Emdoor Digital continues to create a multi-level, multi category, and multi field product layout.
Last September, Emdoor Digital released the "RiNow Intelligent Audio Video Conference Terminal" equipped with Intel x86 architecture chips and Windows 11 operating system. Compared to ARM chips, the Intel Tiger Lake processor used by RiNow has more powerful multithreading processing capabilities, audio and video encoding and decoding capabilities, image processing capabilities, and multi display capabilities; Compared to the Android system, the Windows operating system has higher multitasking and multi window collaboration capabilities, and is compatible with various mainstream conference software both domestically and internationally, fully catering to the development trend of video conferencing.
「RiNow智能音视频会议终端」
In addition, based on the latest image processing algorithm of Intel IPU6, RiNow has high-quality image output. The 13 megapixel wide-angle MIPI camera supports three innovative features: privacy mode one click on, wide-angle distortion correction, and intelligent video conferencing AI algorithm. RiNow also innovatively supports omnidirectional and directional switching of human voice pickup, and is paired with three audio algorithms: acoustic echo cancellation, automatic gain control, and background noise suppression to improve call quality and create an immersive voice experience.
In response to the new demand for video conferencing by enterprises and the new trend in conference room construction, Emdoor Digital has independently developed the "ESCS Intelligent Conference System" based on the RiNow conference terminal. The system supports Wi Fi Direct peer-to-peer connection function, omitting complex pre meeting preparation work, and supporting synchronized collaborative interaction among multiple people, creating an efficient and convenient meeting experience. Open the ESCS app on the mobile phone and scan the QR code to directly connect, allowing for intelligent remote control and real-time sharing of conference materials through the simulated mouse on the mobile phone.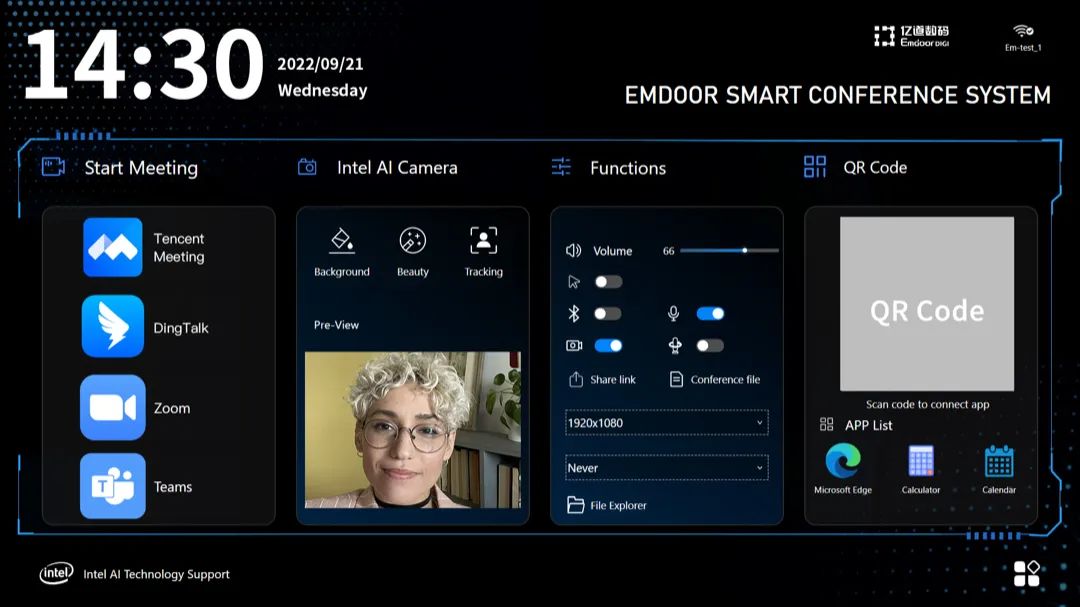 The release of this product is a "big move" by Emdoor Digital in recent years, which has not only provided new ideas for digital conferences in the era of hybrid office, but also redefined the future "intelligent audio and video conference terminal", fully reflecting Emdoor Digital's innovative spirit of daring to explore and being good at breaking through.
In the future, Emdoor Digital will continue to work with industry partners to deepen technological innovation and product research and development, bringing higher quality and more comprehensive intelligent hardware products and solutions to global users.